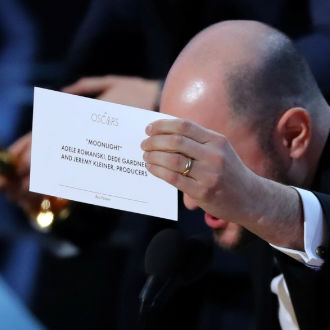 By John Hanlon, John Hanlon Reviews
It was Hollywood's biggest night and it featured one of the biggest debacles in Oscar history.
On a night when the uplifting musical La La Land won six Oscars and the drama Moonlight took home three, the biggest story of the evening was the mess that ensued during the presentation of best picture.
La La Land was heavily favored to win the award and was named best picture by presenters Warren Beatty and Faye Dunaway, the stars of Bonnie & Clyde. Producers from the film arrived onstage, gave memorable speeches and then — in a moment that will live in infamy forever — were told that the wrong winner was announced.
La La Land producer Jordan Horowitz had to then announce that Moonlight had actually won best picture.
Before that cast took the stage though, Horowitz had to hold up the correct best picture card to assure the incredulous audience that this wasn't a joke. It was a mistake and one that PriceWaterhouseCoopers — the accounting firm in charge of the envelopes — later apologized for. The cast and crew of Moonlight eventually took the stage, winning the biggest award of the night.
This shocking ending capped what was a long but oftentimes enjoyable award show.
In the end, La La Land — the romantic story of a jazz musician who falls in love with an aspiring actress — went home with six awards (out of 14 nominations). It won best director (Damien Chazelle), best actress (Emma Stone), best cinematography, best production design, best score and best song (a category where it was nominated for two different songs). Moonlight — a drama about a young African-American in Miami coming to terms with his sexuality and his raw upbringing — struggling won the biggest prize of the night with best picture and also went home with the awards for best adapted screenplay and best supporting actor (Mahershala Ali).
Manchester by the Sea went home with two awards: one for its male star Casey Affleck and one for its original screenplay. Hacksaw Ridge won the awards for best film editing and sound mixing while Viola Davis — a three-time nominee — went home with the award for best supporting actress for her performance in Fences.
All of the acting awards went to first-time winners but another first-time winner broke one of the longest records in history. Kevin O'Connell, one of the nominees for the sound mixing team of Hacksaw Ridge, won his first award on his 21st nomination.
John Hanlon is our film and television critic. He can be followed on Twitter @johnhanlon and on Facebook here.