"Love and Monsters" Review: Finding romance after the apocalypse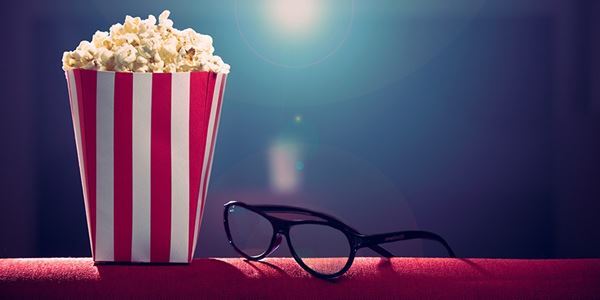 By John Hanlon
The new film Love and Monsters begins with an explosion of exposition. Joel Dawson (Dylan O'Brien) narrates the opening moments, bringing the audience up to speed in this post-apocalyptic world. As the story begins, an asteroid that once threatened the world has been destroyed. However, when humanity worked to destroy the asteroid, they unwillingly unleashed a new horrific reality: once-friendly animals were turned into huge monsters that threatened mankind. 95% of the world's population is now gone.
In this new reality, survivors came together in cozy bunkers and live in small communities.
Joel is one of those survivors. He lives underground with other hardened survivors but while all of his roommates in the bunker are paired up, Joel remains stubbornly single. An artist, Joel spends his time drawing the monsters his friends describe and writing letters to his long-lost love Aimee (Jessica Henwick), who he hasn't seen for seven years.
Although little time is spent in Joel's bunker early on, the amiable O'Brien quickly establishes his character's relationship to the group. Like his character on Teen Wolf, O'Brien brings a burst of nervous excitement to his friends and it's easy to see why he fits in with his peers (his cooking skills also help).
After pining for Aimee for so long, Joel eventually decides to leave his bunker and find hers. The duo are separated by nearly 90 miles — a great expanse of land that's dominated by deadly creatures and monsters – but the ever-nervous Joel opts to follow his heart and find her.
As Joel traverses the post-apocalyptic terrain, he encounters deadly creatures and befriends some fellow survivors searching for safer ground. Although the film isn't as fresh as Zombieland, it thrives in the same genre with Joel learning new rules as he goes on his path. Although Woody Harrelson is nowhere in sight, Joel befriends a tough-minded warrior named Clyde (Michael Rooker) and his kind-hearted friend, Minnow (Ariana Greenblatt). These friendships and close encounters with some unique monsters keep the plot moving along at a solid pace.
Along the way, Joel also meets up with a friendly dog and a broken-down robot, who interacts with Joel in a stirring sequence. These scenes rely on O'Brien's presence and pull as an actor and he manages to create strong relationships with both.
The feature never tries to be as funny or outrageous as Zombieland or Shaun of the Dead. Instead the screenplay by Brian Duffield and Matthew Robinson thrives by focusing in on the idealism and hope of its main character. Even when Joel is disappointed when things don't go according to his plan, cynicism doesn't settle in. Instead, he finds hope to move forward.
Even though the third act of the feature feels different than the previous two, it nicely brings the story together in a surprising but ultimately heartfelt way. Combining classic elements of monster movies (including some solid special effects), romantic stories and a few moments of light comedy, Love and Monsters works as a light-hearted and fun ride with O'Brien elevating the material with a natural charm and sincerity that keeps audiences on his side throughout his arduous journey.