"The Story of God" Review: Historical show explores religion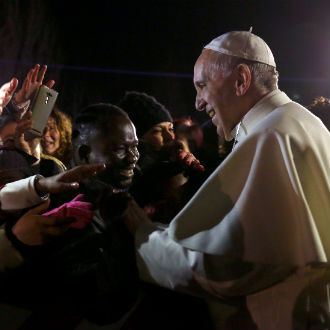 By John Hanlon
The National Geographic series The Story of God has a tremendously broad title. There are so many different deities in the world and so many different religions that it's hard to fathom the enormity of such a subject. When the show premiered in April of 2016, its opening episode focused on the afterlife, a tremendous topic itself that could have merited its own program.
Fortunately, the show manages to break difficult topics like that down and it offers an important but highly-watchable look at subjects like that. If you missed the show when it first aired, the first season has finally arrived on DVD.
The history series is hosted by Oscar winner Morgan Freeman, who oftentimes opens the episodes with personal anecdotes that lead into the episode's topic. In episode five Why Does Evil Exist, he begins by talking about his experiences dealing with segregation in the South. In episode six The Power of Miracles, he opens by talking about how — at the age of 16 — he faced a horrific health situation and managed to beat the odds and survive.
These opening moments foreshadow the difficult subjects to come but do so in a way that makes the subjects more accessible.
The first season is composed of six episodes with each episode focused on a topic and the way that different religions view that subject. Because each episode is approximately only 50 minutes in length, there isn't much time to really delve deeply into how a religion views a subject but the audience gets a glimpse of the topic. Oftentimes, the episodes delve into the beliefs of Christians, Muslims and Hindus.
Along the way though, there are personal stories and studies that add depth to each of the subjects. In the episode about evil, for instance, Freeman interviews an imprisoned rapist and murderer who discusses the motivations for his crimes. A researcher then delves into the criminal's brain scan, noting that there are elements in this prisoner's brain that suggest that he was built differently physically than most other people.
Unlike other programs, this show often highlights both religious beliefs and scientific studies and shows that the two aren't mutually exclusive. In fact, the episode about creation notes that religious believers and scientific researchers can find common ground on a variety of subjects. One of the show's greatest strengths is that it oftentimes highlights the common beliefs of different faiths and how many believers aren't as dissimilar as some would suggest.
The program is packed with interesting and thought-provoking ideas and even Freeman seems genuinely curious and excited to learn more about how religions and individuals view some of the trickiest subjects in life. His enthusiasm is palpable and contagious. Although the show delves into some dense topics, it never leaves the audience behind trying to catch up. This is a show steeped in history and fact and one that should fascinate believers of many religions.
Although its subject matter might be too heavy for some viewers, The Story of God is a truly commendable achievement and one that should satisfy those curious about the world beyond the here and now.
Click here to purchase season one on DVD.
John Hanlon is our film and television critic. He can be followed on Twitter @johnhanlon and on Facebook here.