"Words on Bathroom Walls" Review: Sensitive drama tells an eye-opening story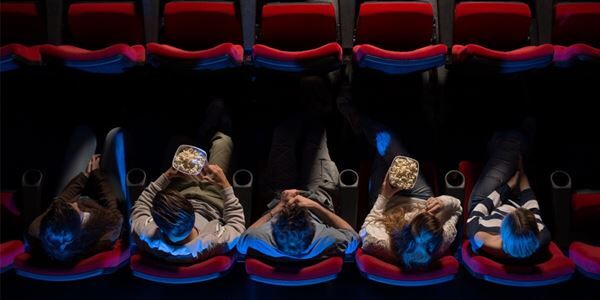 By John Hanlon
Adapted from the novel by Julia Walton, the new drama Words on Bathroom Walls strives to do something quite remarkable. It focuses in on a schizophrenic protagonist and attempts to honestly portray his struggles and how he manages to overcome them on a daily basis.The feature sees him for who he is and not simply as a caricature, which elevates this romantic drama.
Charlie Plummer stars as Adam, a high school student whose voice-over sets the stage for the film. "At first, they thought there was something wrong with my eyes," he says. The young man started hearing voices and seeing people who weren't there. These symptoms lead to an incident in the high school science lab and a tough medical prognosis: he's suffering from schizophrenia.
With the encouragement of his supportive Mom (Molly Parker), Adam starts out at a new school, hoping to get a new start. He dreams of becoming a professional chef and hopes he can keep his goals on track despite his condition.
Although Adam's condition is introduced early on, the screenplay by Nick Naveda nicely only uses that as a starting point to tell this story. This isn't just a story about Adam's illness and the feature quickly establishes Adam's dreams and his abundant optimism about his future.
For some at his first school, Adam was defined by the painful incident in the science lab but the film sees him as far more than that and quickly starts building out the rest of his story.
At his new school, Adam befriends the quick-witted Maya (Taylor Russell) and slowly starts letting her in. It's this relationship that helps define Adam's journey. Plummer and Russell have an easy chemistry and the film takes its time defining their relationship. Neither of these characters is perfect — Maya helps her fellow students cheat on their work and Adam's frustrations with his condition cause him to make some bad choices — but both of them are presented as relatable and self-conscious teenagers who are simply trying to excel despite their circumstances.
Although some elements of the plot feel traditional for a teenage romance, the subject of mental illness is not and this film handles that in a sensitive and earnest way. Director Thor Freudental really manages to present it as a threatening force that can be controlled at times through medication. When Adams doesn't take his medication though, Freudental builds up a tremendous layer of tension, letting the audience know that Adam's symptoms could present themselves at any moment.
There are aspects of the mental illness though that are a little muddled. The main character sees three distinct people in the visions he sometimes experiences and at times, they seem like a ragtag crew of characters meant to add humor to the story. That doesn't work here but Adam's struggle does and the story doesn't lose sight of the pain and heartache he faces in dealing with his illness. Also, the climactic sequence featuring Adam facing off against his illness while given a speech feels a little too superficial for a film that strives to be really thoughtful.
Despite those minor flaws though, the feature does great work in dealing with a real issue with sensitivity, earnestness and care. It never defines its main character by his illness. Instead, it simply shows it as a character trait that Adam has to recognize and manage if he's going to become the success story he wants to be.